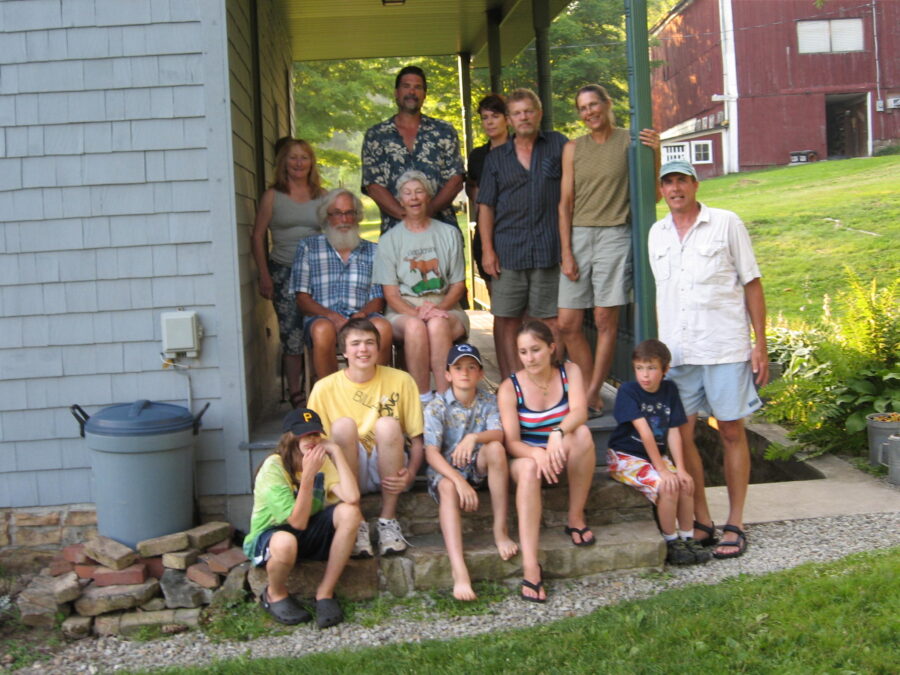 WHO WE ARE:
The Putman Place is a 75 acre farm on the eastern side of the Laurel Mountain 1½ miles from Bakersville on the West Bakersville-Edie Road. The farm is managed by Sue Putman and her husband, John Steele, the border collies, Lochy and Lucy, as well as visiting relatives and friends.

HISTORY:
The Putman Place has been farmed by our family for five generations, since the 1850s. For the first one hundred years it was a traditional Somerset County dairy farm with 10 to 20 milking cows, a few pigs, a flock of chickens, and crop rotations of corn, oats and hay. Later the dairy gave way to beef. In the 1970s we began raising vegetables, strawberries, grapes, raspberries and other fruits.

WHAT WE DO:
At the present time, we grow asparagus, rhubarb, cut flowers, fresh herbs, assorted garden vegetables, and blueberries. We market them directly to our customers at the farm. We also create fresh floral designs for weddings and other special events with material harvested from our gardens and property.
We are open from May through September. Friday 8:00am to 6:00pm and Saturday 8:00am to noon. All other times by appointment (just call or e-mail)

Asparagus(5.00/lb) is harvested in late April and through early June, depending on the weather. We gather and sell about 1000 pounds of asparagus tips each year. We snap our asparagus when we harvest so the whole pound is tender. We almost always "sell out" on the weekends so it's always a good idea to order ahead so we can save it for you.
Rhubarb:(3.00/lb) Sold only in May into the first part of June. Great for pies, sauces (like apple sauce). Traditionally the first "fruit" of the season.
Blueberries (5.00/pt) start in early July. After 5 bad seasons in a row, we are downsizing the number of blueberry plants we have in production. The "Blueberry List " of past years will not be used. We will see what the season looks like and go from there.
Cut Flowers: We have a large cutting garden of annual and perennial flowers and  herbs with over 300 varieties available throughout the season.  The flower season runs from mid June through September with a  possible week or two on either end (weather permitting). The plant varieties are selected by Sue and started in  our greenhouse in early spring.   The garden is not open to the public for cut your own. Cut floral material is available from our cooler.
Fresh Herbs: We have a variety of culinary and medicinal herbs, sold by weight.