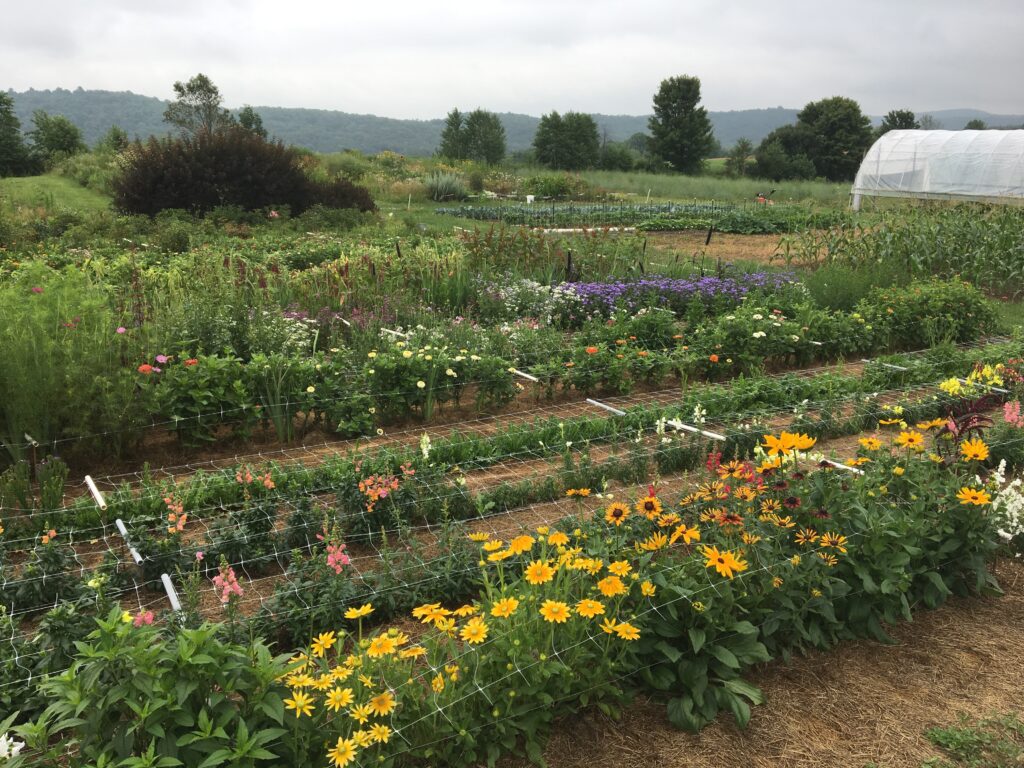 Flowers in bloom now:
The flower garden is closing down for the season. Things start back up in early June. Here's hoping for a snowy winter!
We have a large cutting garden of annual and perennial flowers and herbs. The flower season runs from mid June through early October. We are currently growing over 200 different cultivars of flowers. These are selected by Sue and started in our greenhouse in late winter.
The majority of the flowers are used by Sue for pre-ordered events like weddings, reunions, house parties. We only book one wedding/week but can take on other events depending on the time of year and size of the wedding. Any floral material not being used for the pre-ordered jobs is available to the walk-in public from our cooler.
We are no longer allowing cut-your-own flowers. You are welcome to walk around the gardens and then select pre-cut and conditioned flowers.
Prices are: 15.00 for a ½ gal cardboard milk container or 50.00 for a bucket.
hint: Bring your own bucket for easy transport home.
Special occasions (weddings, reunions, showers)
We recommend that you contact us early. After the initial contact is made (and the event "booked") the client visits the garden one to two weeks before to finalize the details and prices. We are not booking any additional weddings for the following dates: June 17, 24, July 1, 8, 22, August 19, 27, September 30, 2023
The Putman Place can also be your full service florist by creating, delivering and setting up your complete wedding flowers from ceremony to reception. Click to view current Floral design Price List.
Design Party at the Putman Place:
Some groups choose to book the flower hut for several hours (40.00/hr plus cost of materials) and have a design party here with a Putman Place design consultant. These parties work like an arts and craft class ; all materials are ready to be assembled and we assist you in the entire process of making your designs. Check out the Floral Design Page to see some past Putman Place floral creations.
The Kit
This is for multiple, identical table arrangements. The client tells us how many arrangements they want to make and loans us one of the vases that they plan to use (i.e. mason jar). "The kit " includes one arrangement in that container and enough floral material for the client to make the remaining arrangements. Prices range from 10.00 to 15.00/ arrangement.
Floral Supplies:
We also have available for sale some popular flower arranging supplies; floral tape, floral foam, corsage pins, bouquet holders, floral preservative, finishing spray and can special order vases and other supplies.
Early Summer June 15 to July 15.
Lupine, Sweet William, Orlaya, Iris, Chive blossoms, Peony, Heliopsis, Amsonia, Coral Bells, Field daisy, Shasta daisy, Monarda, Ladies Mantle, Gold and Millifolium Yarrow, Annual Gypsophila, Bachelor Buttons, Larkspur, Lavender, Astilbe, Pearl Everlasting, Sea Holly, Sea Lavender, Globe Thistle, German Statice, Liatris, Perennial Gypsophila, Hyssop.
Late Summer July 15 to frost (mid October)
Bachelor Buttons, Gypsophila, Larkspur, Salvia, Millifolium Yarrow, Statice, Celosia, Strawflower, Globe Amaranth, Millet, Sweet Annie, Goldenrod, Joe Pye Weed, Snapdragon, Hydrangea, Sunflowers, Rudbeckia, Ninebark, Lisianthus, Amaranthus.