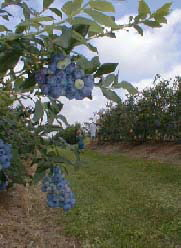 Our blueberry season begins in early July and lasts fro about 6 weeks. We grow Bluetta, Blue Crop and Blue Ray varieties.
Storage: Blueberries are not as perishable as most fresh fruit. If you plan on using our berries within a week of purchase, refrigeration is not necessary. Refrigerated, they will keep for several weeks. Just store in a plastic container with or without a lid.
Freezing: Blueberries are one of the easiest fruits to freeze. Remove all stems and damaged berries, rinse with water and allow to dry thoroughly (on a paper towel covered cookie sheet or just in a colander for several hours). Then put in a zip lock bag and freeze. There is a loss of quality in the fruit from fresh, the flesh becomes soft) but for baking there is little difference and the flavor is still great.
Blueberry  Cheesecake Ice Cream
from Will Putman
Ingredients:
1 lb. cream cheese
1 pt sour cream
4 eggs
2 cups sugar a pinch of salt
2 Tbs. lemon juice
1 to 2 qt. of half and half 3 cups blueberries

Method:
Blend the cream cheese, sour cream, eggs, sugar, salt and lemon juice  until smooth. Crush or blend the blueberries depending on how large of blueberry chunks  you want in your ice cream and add to the cream cheese mixture. Put this mixture in an ice cream freezer can and top off with milk or half  and half until the can is approximately 3/4 full. Churn the mixture until very stiff. Allow several hours for it to  "set up".
from Mary Putman
Yields 2 large cakes or 4 small
Freezes great!
Make 1 day ahead.
For the cake:
12 oz. softened butter
1/2 cup granulated sugar
3/4 cup brown sugar
6 eggs (room temperature)
1 1/2 Tbs. vanilla extract
2 1/2 cups plus 3 Tbs. all purpose flour
1 tsp. baking powder
1 1/4 tsp. salt
1/3 cup milk
3 cups blueberries (fresh or frozen)
zest if four large lemons
For the Syrup:
1/2 cup fresh squeezed lemon juice (from the zested lemons)
2/3 cup granulated sugar
Method:
Preheat the oven to 325 F
Prepare loaf pans (2 large 9 by 5 by 3 or 4 small ) lining with wax paper, butter and flour. If using non stick pans, lightly spray with pan coating.
In a mixer, combine the softened butter and sugars. Mix on medium speed until well combined and lighter textured, add vanilla. Continue mixing and add room temperature eggs slowly until all is smooth and well mixed. Add lemon zest.
In a large bowl, sift together the flour, baking powder and salt. Stir in blueberries.
Add creamed butter mixture and milk to the dry ingredients. Combine with a rubber spatula using folding techniques so as not to over-mix.
Spoon the batter into the prepared pans, smoothing the top of the batter.
Place in the center of the oven and bake for approximately 45 minutes depending on the size the pan. Doneness is recognized as golden brown in color, firmness to the touch, and the edges of the cake separating from the sides of the pan.
While the cakes are baking, combine the lemon juice and sugar in a non-reactive saucepan (no aluminum). Heat the mixture, stirring occasionally, over medium heat. Allow the syrup to simmer for 2 to 3 minutes. Ste aside to have ready when the cakes are removed from the oven.
Remove from the oven, immediately brush or spoon a generous amount of the syrup over the tops of the cakes while they are still in their pans.
Cool for 15 minutes…, then remove the cakes from the pans, placing on a cookie sheet, up-side down. Brush or spoon the remaining syrup over the bottoms and sides of the cakes. Cool completely before handling.
Wrap well in plastic wrap or a zip-lock bag to freeze.
The cakes are at their peak of flavor the day following the preparation.
(from Sue Putman)
This recipe has twice the blueberries and an extra egg from most muffin recipes.
If you a blueberry lover, you will love this!
Yields 1 dozen
Ingredients:
1/4 cup butter (melted)
2 eggs
1 tsp. vanilla
milk
1 3/4 cup flour
1 Tbs. baking powder
1/2 cup sugar
2 cups blueberries
cinnamon and sugar mixture
Method:
Preheat oven to 400 F
Mix together the melted butter and the eggs until well blended. Add enough milk to make a total liquid of 1 1/4 cup. Add vanilla and mix well.
Sift together the dry ingredients (flour baking powder, salt and sugar). Place in a bowl and make a "well".
Add the liquid and fold gently with the dry ingredients. When almost mixed, stir in the blueberries.
Distribute batter evenly into 12 lined muffin tins. Sprinkle the top with a cinnamon and sugar mix.
Bake 22 minutes.