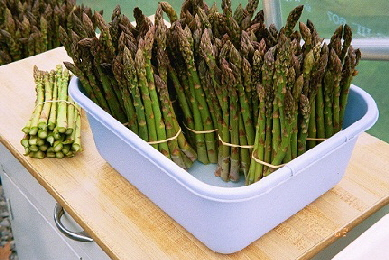 Asparagus is a perennial which grows from fleshy roots or crowns. In Pennsylvania the new spears are harvested during late April, May and June. In good weather spears may grow 6 inches a day and are harvested when they reach about 9 inches. Asparagus is picked once or twice a day. The diameter of the spears has nothing to do with age. All spears are young when picked, three days old or less. After the picking season the asparagus is allowed to grow into ferns up to 7 feet tall. During the summer and fall they store reserve food in the roots for the next growing season. Our asparagus is snapped, not cut, leaving the tough part in the field. This means you can use the whole spear without any waste. Immediately after picking, it is cleaned and refrigerated to insure freshness and high quality.
STORAGE Asparagus should always be refrigerated until used. If you are going to keep asparagus for any length of time we suggest it be stood upright in a shallow pan in 1″ of water in the refrigerator. Change the water daily. Asparagus stored in this way can be kept for two weeks or more without loss of quality.
COOKING Asparagus can be steamed, parboiled, sautéed, roasted or grilled.
For steaming, use a traditional asparagus steamer or stand upright in a deep pan with 1″ of water & cover. Steam not more than 10 minutes. DO NOT OVERCOOK! If you like it crisp, try 5 minutes. The thicker the spear, the longer the cooking time. For the microwave, place 1 lb. in a shallow glass baking dish with 1/2 in. water and cover with plastic wrap. Cook for 5 to 7 minutes on high. For lesser amount, use a shorter time.
The thin asparagus is better for sautéing; just sauté with olive oil and garlic and then toss with pasta and a good grated cheese.
Use the thicker asparagus for grilling. Toss the asparagus with an oil and vinegar dressing and then roll it around on the grill until slightly charred and cooked to desired doneness (usually about 10 minutes).
To roast asparagus place in a shallow baking dish, drizzle with olive oil and sprinkle garlic salt or any other seasoning of choice and bake in a 400 ° oven for about 10 minutes. Asparagus can also be parboiled for a 2 minutes and then immediately chilled in ice water then served cold with a dip.
FREEZING Asparagus can be frozen either as whole spears, cut pieces or pureed. Steam blanch for two minutes, chill immediately in cold water, drain, pack in plastic bags, and quick freeze. Cook frozen asparagus by steaming for two or three minutes.
Note: the texture of frozen asparagus is not like fresh; try a small amount to make sure you like it before investing both time and money in freezing a large quantity. Soup made from pureed frozen asparagus is as good as that made from fresh asparagus.
A note about canned Asparagus: The unanimous opinion here at the Putman Place is that canning asparagus is the best way to ruin a really excellent vegetable. We think you should eat as much as possible fresh in our long 6 week season and then look forward to the next season.
Break asparagus into 1″ pieces. Steam or parboil for 5 minutes or less. Chill immediately in ice water
Dressing:
2 Tbs. vinegar
2 Tbs. lemon juice
3/4 cup olive oil
3/4 tsp. salt
1 Tbs. sugar
1 Tbs. chopped chives or scallions
1 Tbs. chopped green pepper
1 Tbs. chopped pickles
2 Tbs. chopped pimento or sun dried tomatoes (optional)
1 Tbs. chopped capers (optional).
Mix everything together in a jar and shake. Use 1/2 cup dressing for each pound of asparagus. Pour over chilled asparagus and refrigerate until ready to serve.
This is also good with some fresh mozzarella or feta cheese.
Steam 1 lb of asparagus and chop into 1" pieces. Set aside the tips and puree the remaining pieces in a food processor or blender.
Sauté 2 Tbs. chopped onion, 1 Tbs. chopped chives, and 2 Tbs. chopped parsley in 4 Tbs. butter or olive oil.  Add 4 Tbs. flour and stir until bubbly.  Add the pureed asparagus and 1 chicken bouillon cube (optional).  Cook until thick.  Just before serving, add the asparagus tips and 2 cups milk and heat (don't boil).  Salt to taste.
Use jumbo asparagus (the thin spears fall through the grill). Toss raw asparagus in Italian dressing or a lemon juice/olive oil dressing and just throw on a medium hot barbecue grill (roll around like hot dogs) for about 15 minutes (if you put the lid down it takes less time).
Use jumbo asparagus. Preheat oven to 400°. Spread out the asparagus in a shallow baking dish so that the asparagus are no more than two spears deep. Drizzle with olive oil and sprinkle with garlic salt, Parmesan cheese or any other seasoning of your choice. Bake for about 15 minutes.
Pickled Asparagus (Dill or Curry)
Brine: 1 gallon White or Cider Vinegar
10 cups Water
1 cup Kosher Salt
1 dozen wide mouth canning jars, lids and rings
12 pounds asparagus (fatter asparagus stays crisper)
Spices in each jar:
1/2 tsp. dill weed or 1 tsp. of curry powder
1/4 tsp. mustard seed
3 cloves fresh garlic (chopped)
1 hot dried chile
Directions: Wash asparagus and cut into lengths to fit into jars leaving about 1 inch head space. Bring brine to boil. Pack asparagus into jars, add spices and fill jar with hot brine. Adjust lids and rings. Process in boiling water bath for 10 minutes.